---
Redox flow battery RFB
Redoxflow batteries have been realized in flat geometries, as implementation in cylindrical design has so far been considered too costly. Thanks to our many years of expertise in the field of spiral membrane modules and the right cooperation partners at our side, however, we can now implement precisely this design.
The patent for a redox flow battery in a coiled cylindrical design was granted.
To the press release from July 27, 2020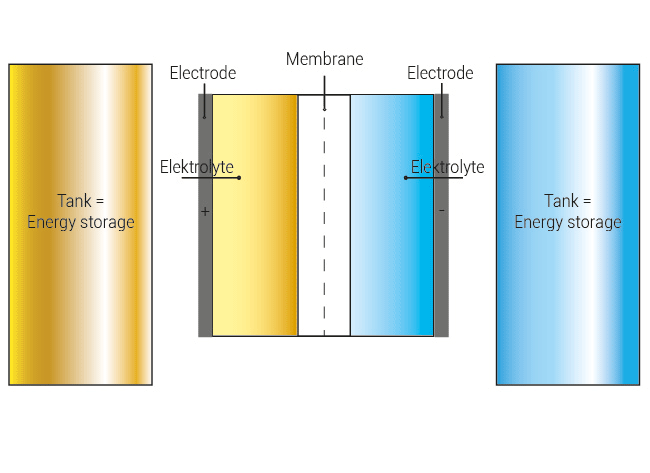 OPERATION OF A REDOX FLOW BATTERY
Redoxflow batteries are among the electrochemical energy storage systems. In this type of liquid battery, electrolytes containing redox-active substances circulate in at least two half-cells separated by an ion-conducting, semi-permeable membrane. A voltage is generated by the potential difference. When the circuit is closed, an electrochemical reaction occurs and the current begins to flow.
SEPERATE ENERGY STORAGE
The redox flow battery allows independent scaling of capacity and power because the energy is stored separately. The amount of electrolyte determines the capacity of the battery and the area and number of stacks determines the battery power.
NO SELF-DISCHARGE
Due to the separate storage of the electrolytes, there is virtually no self-discharge when the system is not in operation.
SECURE
A RFB is non-flammable and explosion-proof. The safety is a decisive advantage compared to other types of batteries.
COST BENEFITS
Compared to the conventional plate stack design, the cylindrical design of a redox flow battery results in enormous cost advantages and thus becomes interesting for new markets.
---
Cooperation
Are you interested in further developing the product together with us
or testing our prototype RFB at your company?
Please contact our head of strategic development:
Mr. Dr. Thomas Weimer:
This email address is being protected from spambots. You need JavaScript enabled to view it.